Just over three weeks ago I visited the Bombardier Transportation factory in Vienna with Junge Wirtschaft Wien.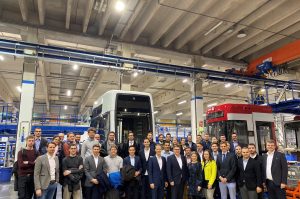 The site produces trams and light rail vehicles. We had a closer look at the new Flexity Wien model (pictured to the right).
The first one hit the streets in December 2018 and the trams have been introduced on a couple more lines since then. They will be used all across the city by 2025.
Vehicles from the site are delivered all over Europe. I lived in Manchester for over five years but never knew that the trams came all the way from Vienna on special lorries and ferries.
I'm in the back row on the right!
The photo is from https://www.facebook.com/jungewirtschaftwien/photos/pcb.3237743212920147/3237742432920225/?type=3&theater